WHAT'S NEW ON CATALINA ISLAND: 2019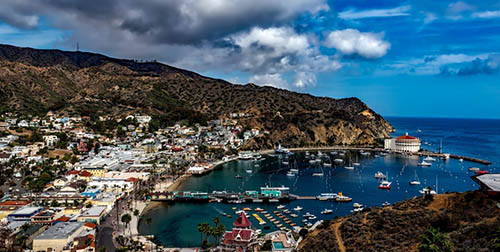 Catalina Island is a place like no other. Consistently named one of the best island getaways by media outlets and digital influencers nationwide, Catalina Island, located just 22 miles off the Southern California coast, is a unique blend of laid back vibe, rich and historic past, features water and land activities to suit any taste and modern day amenities and services for every budget.
The Island is constantly evolving to offer visitors the best experience, whether it's to relax and rejuvenate or rev up the action. Following are some of the most exciting new happenings on the Island this year, from new restaurants, hotels, cultural attractions and retail stores.
Spend an hour aboard
Catalina Express
, which offers up to 30 departures daily and year-round service to Avalon and Two Harbors from San Pedro, Long Beach and Dana Point. It offers comfortable airline-style seats and grouped table seating. Traveling to Catalina Island in as little as one hour, each vessel was designed and built/purchased specifically for comfort and speed. What do you say? C'mon and visit!
macOS Catalina
Apple is renowned for naming its operating systems after California treasures, from Mojave, Yosemite and now Catalina, launching October 15, 2019.
You'll surely envision and maybe even visit this Shangri-La as you experience music, TV, and podcasts in three all-new Mac apps. Enjoy favorite iPad apps now on your Mac. Extend your workspace and expand your creativity with iPad and Apple Pencil. And discover smart new features in the apps you use every day.
RESTAURANTS AND SHOPS TO TRY
The iconic
El Galleon Restaurant
has been acquired by the owners of
Bluewater Avalon
, Jimmy Ulcickas and Richard Staunto, along with local entrepreneur, Caleb Lins, and other local investors, with a plan to update the historic destination for the next generation of Catalina Island visitors and locals.
Opened in 1967 by Jack and Nora Tucey on Crescent at Front Street, El Galleon is an Island institution known for its eclectic atmosphere, extensive menu and karaoke bar.
The new owners will maintain the legendary El Galleon name and concept, update the interior and simplify the menu to combine the most popular items – ribs, steaks, prime rib and chicken, classic sandwiches and burgers, and fresh, locally sourced fish in season – with a series of rotating specials. Plans call for El Galleon's lively karaoke bar, neighborhood happy hours and year-round holiday parties to remain.
Toyon Grill by Bluewater
is now open and is a result of a partnership between Bluewater's owners and the Catalina Island Conservancy. Located at the new Trailhead Visitor Center, which also has a retail store, tour operation, gallery and roof deck that doubles as an educational, event and wedding venue, Toyon Grill is named after the Toyon bush, or California Holly, native to Catalina Island and Southern California. According to legend, the Toyon is so plentiful in Southern California that developers of Hollywood mistook it for "holly" and named the burgeoning community "Hollywood" by mistake.
Consistent with the Conservancy's commitment to sustainability, Toyon offers fresh, hyper-local ingredients. Along with breakfast, lunch and dinner, Toyon will feature specialty coffees, small-batch craft beers, cocktails and California wines. Grab-and-go picnic boxes will be available for adventurers exploring the island. Much of the Pacific swordfish, white seabass and other fish served at Toyon Grill will be caught in waters off the Island by Bluewater's own boat, Pilikia, or by local fisherman. Info: 310 510 8599
Catalina Pottery opened this summer offering original vintage Catalina Pottery that was made on Catalina Island from 1927-1937 as well as offering tiles, and other work by made by local artists.
Golden Bay Surfwear
offer surf styles for men and women, sandals, sunglasses, hats and beach accessories
CULTURAL ACTIVITIES
This year marks the 125th anniversary since visitors have been enjoying Catalina's scenic beauty
, when the Catalina Island Company built Hogsback Road up to the ridge above Avalon and began taking guests on exciting horse-driven stagecoach rides into the Island's interior.
To celebrate its 125th anniversary, Catalina Island Company is offering
Wrigley's Catalina
, an exclusive narrated tour that visits many historic venues and explore Catalina's early beginnings, such as:
• Catalina Country Club, originally the Cubs clubhouse and home to the Bobby Jones Trophy and a huge collection of sports memorabilia
• The site where Wrigley's Chicago Cubs held Spring Training from 1921 to 1951
• Former Bird Park, a popular attraction that housed thousands of birds for 40 years
• Catalina Chimes Tower, which has chimed every 15 minutes since 1925
Catalina Island Museum's
Wrigley's Catalina: A Centennial Celebration
is on display until January 19, 2020. This special exhibition commemorates William Wrigley Jr. and the execution of his vision for Catalina Island - especially during his first year of ownership: 1919. The exhibition reveals his remarkable and ambitious plan using photographs, letters, original documents, plans, blueprints, maps, steamship artifacts, advertisements, tools and objects relating to the various projects and industries. A number of items, such as the Wrigley family Bible, have never before been exhibited.
Info: 310-510-2414
ENJOY THE OUTDOORS
After the new-and-rehabbed
Trans-Catalina Trail
opened last year, part of a 165-mile system of recreational roads and hiking trails on the island, Catalina Conservancy has just opened
The Trailhead
, which serves as a gateway to the Island's wildlands. Catalina Island's first LEED-certified green building provides visitors and residents with information and opportunities to understand and explore the Island's 42,000+ acres of open space and 62 miles of rugged shoreline. While there, visitors can obtain hiking and biking permits, trail maps, detailed information on campgrounds, native flora and fauna, ecology and history. The Trailhead features an interactive map table, educational exhibits, mission-centric retail items, the Conservancy's plein air art collection, unique flex room spaces and a rooftop garden with native plants. Catch the Catalina sunset from the Trailhead with an outstanding view of Avalon Harbor!
Info: 310.510.2595.
HISTORIC HOTELS REOPEN
The famous
Zane Grey Pueblo Hotel
, originally built by the prolific writer Zane Grey in 1927, will reopen summer 2019. Perched cliffside overlooking Avalon Bay, the newly- renovated hotel will offer expansive views from its 17 rooms. The Zane Grey Society provided consultation on the design and all care has been given to maintain the historic Hopi Pueblo style and décor of the original hotel. With sensitivity to the history of the property the hotel is being upgraded to 21st century standards. Guest rooms have been expanded and windows added to offer scenic valley and ocean views. The hotel will also offer a restaurant, swimming pool and roof deck.
Info: 310-510-1520
After a complete renovation,
Hotel Atwater
will accept guests beginning August 11, 2019. Named in honor of Helen Atwater Wrigley, wife Philip Knight Wrigley, Hotel Atwater originally opened in 1920, ushers in a new era for Catalina Island as a popular getaway for everyone from Hollywood's elite to hardworking mainlanders looking to escape their hectic lives. Just a block from the beach in the heart of Avalon, one bedroom suites feature king beds, one and a half baths, and a separate living space with seating, bar and desk areas. Some suites offer views of the harbor; others offer mountain views. Standard rooms offer king or queen beds, and separate seating and desk areas. All rooms are equipped with refrigerators, smart TVs, luxurious linens, high end fixtures and quality finishes throughout.
Info: 877.778.8322
About Catalina Island and Catalina Express
Located 22 miles off the coast of Southern California, Catalina Island is accessible by boat from three ports via Catalina Express: San Pedro, Long Beach and Dana Point. Catalina Express offers up to 30 daily departures and year-round service to Avalon and Two Harbors, transporting nearly one million passengers annually. It offers comfortable airline-style seats and grouped table seating. Traveling to Catalina Island in as little as one hour, each vessel was designed and built/purchased specifically for comfort and speed. Catalina Express is an unparalleled resource in Southern California, and one of the world's most respected ferry fleets. For information and reservations, call 800-429-4601, or visit
Catalina Express
.
Catalina Island's
clear blue waters and Mediterranean climate and ambiance are a Shangri-La. This laid-back island town is chock full of places to eat, drink, shop. Catalina has a wealth of natural and cultural resources, unique animals and plants found nowhere else on earth. Sightseeing opportunities are numerous and varied from escorted tours around town, adventure rides into the interior, jeep eco tours, hummer rides, to zip lines, rock climbing and undersea adventures. Independent activities are plentiful, camping, hiking, snub, diving, snorkeling, kayaking, spa treatments, beach lounging, golf, motor boating, parasailing, fishing, boat rides down the coastline and more.