SAXOPHONIST KENNY G TO PERFORM AT 32nd ANNUAL
"HONDA EVENING UNDER THE STARS"
GOURMET FOOD & WINE FESTIVAL

Event Proceeds Will Benefit Torrance Memorial Medical Center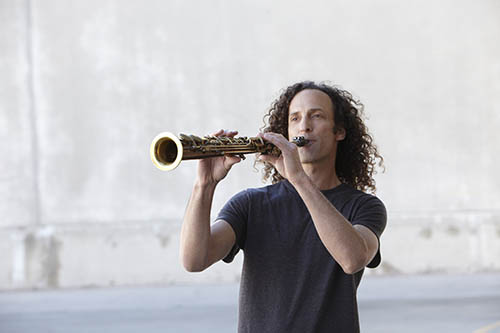 T
ORRANCE, Calif., July 16, 2018
– The South Bay's best fare paired with the soothing sounds of world-renowned saxophonist Kenny G will regale guests at the 32nd annual "Honda Evening Under the Stars" Gourmet Food & Wine Festival on Saturday, August 25, 2018 from 6 p.m. to 9:30 p.m. The event will be hosted by American Honda at its Torrance, Calif. headquarters, and presented in partnership with the Torrance Area Chamber of Commerce. Proceeds will benefit Torrance Memorial Medical Center.
"The fiber of a strong community is exceptional medical care. Honda has always focused on supporting the advancement of our community's health," said Steve Morikawa, vice president, Corporate Relations and Social Responsibility, American Honda Motor Co., Inc. "Through Honda Evening Under the Stars, we are proud to create an enchanting evening of fun and philanthropy for our friends and neighbors in the community to enjoy."
This year's proceeds will benefit the renovation of Torrance Memorial's Donald and Priscilla Hunt Tower. The $33 million revamp includes a new mother/baby unit complete with 25 private rooms. In addition, the fourth floor will offer a new neonatal intensive care unit (NICU) unlike the current traditional open pod model. It will feature 24 private rooms—plus a specially equipped 25th room for higher acuity patients—each outfitted to provide a complete range of newborn intensive care and large enough to accommodate a newborn's family. The tower's third floor will serve as a pediatric/adolescent unit, consisting of 17 private rooms.
"Proceeds from this magical evening will advance our fundraising goals toward providing the most advanced care possible to mothers, babies and children in the community," said Laura Schenasi, executive vice president, Torrance Memorial Foundation. "We are so grateful that American Honda has once again selected Torrance Memorial Medical Center to benefit from this longstanding community tradition."
To date, the following restaurants and beverage partners will be offering their fare and tastings at the festival:
• Benihana
• Bettolino Kitchen
• Café Honda – Sodexo
• Coffee Bean & Tea Leaf
• Depot
• Disneyland Resort
• Doubletree
• Fleming's Prime Steakhouse
• Honda Classic / PGA Tour Professional Wines
• Island Eats Hale A'ina
• Jackson's Food & Drink
• Nothing Bundt Cakes
• Ortega 120/Hey 19
• Paul Martin's American Grill
• Plough / Wooden Valley Winery
• Red Car Brewery & Restaurant
• Rolling Hills Country Club
• Sake Shochu Institute of America
• Sushi Chef Institute
• Truxton's American Bistro
In addition to the very best in South Bay cuisine, professional sommeliers from The Disneyland Resort will be on hand to serve and educate guests on approximately 80 varietals of wine.
As part of the event's festivities, guests will have the opportunity to participate in live and silent auctions, bidding on exclusive items and experiences. Examples include a weekend stay at the InterContinental San Francisco with club lounge access and a $250 restaurant credit at Michelin starred restaurant, Luce; exclusive Disney private dining experience; and Harry Connick Jr. Hollywood Bowl box seats for four. A jewelry pull will also offer 45 guests the opportunity to bid $50 to receive a Kendra Scott-designed jewelry item worth between $50 and $100.
American Honda created the Gourmet Food & Wine Festival in partnership with the Torrance Area Chamber of Commerce in 1987 as a way to bring corporate business, residents, and local commerce together for a relaxing community celebration. Through Honda Evening Under the Stars, Honda and the festival's restaurant and beverage partners have raised millions of dollars and demonstrated a long-standing commitment to bettering the health care of children in the South Bay.
Tickets are $300 per person and $500 per pair until July 31. Table sponsorships are offered at a Platinum level for $15,000, Gold level for $10,000, and Silver level for $5,000. To purchase tickets, access an up-to-date list of participating restaurants, entertainment details and other event information, visit
www.torrancememorial.org/EveningUndertheStars
or the festival's Facebook page at
www.facebook.com/eveningunderthestars
.
About Torrance Memorial Medical Center
Founded in 1925 by Jared Sidney and Helena Childs Torrance, Torrance Memorial Medical Center is a 512-bed, nonprofit medical center established to provide quality health care services predominantly to the residents of the South Bay, Peninsula and Harbor communities. Torrance Memorial seeks to offer the most current and effective medical technologies rendered in a compassionate, caring manner. No longer just a hospital, today Torrance Memorial Medical Center includes an extensive integrated system of physicians and comprehensive medical services to provide coordinated communication and continuum of care. Torrance Memorial is affiliated with Cedars-Sinai under the umbrella of Cedars-Sinai Health System. Torrance Memorial's nursing program has earned coveted Magnet® recognition from the American Nurses Credentialing Center, which recognizes nursing excellence. U.S. News & World Report also ranked Torrance Memorial as one of the best hospitals for 2017-18 in California and the Los Angeles metro area for the sixth straight year. For more information, please visit:
www.TorranceMemorial.org
.
About American Honda
Honda seeks to be a company that society wants to exist, creating products and technologies that improve the lives of people while minimizing the environmental impacts of its products and business operations to ensure a sustainable future.
Honda also is committed to making positive contributions to the communities where it does business, conducting socially responsible business practices and promoting diversity in its workforce. From Honda's involvement in STEM education and Historically Black Colleges and Universities (HBCU) to its support of pediatric brain tumor research and volunteer efforts by Honda associates, including environmental clean-up activities, Honda believes in giving back to the communities where its associates live and work. Learn more at
http://csr.honda.com/
.