IN CELEBRATION OF CONCERN FOUNDATION'S 44th ANNUAL
BLOCK PARTY FUNDRAISER DR. JAY & KRIS CALVERT AND
FAMILY WILL BE HONORED AS CANCER CRUSADERS
IN THE QUEST TO CONQUER CANCER
(Los Angeles, CA) – Concern Foundation for cancer research will host its
44th Annual Block Party
on the back lot of Paramount Pictures Studios in Hollywood on
Saturday July 14th 2018
featuring multiple stages of live entertainment, casino style games, live and silent auctions, and food, desserts and beverages from over 70 of Los Angeles' best restaurants and caterers.
2018 marks Concern's 50th year and since inception Concern has awarded over $60 Million Dollars in salary support to well over 750 cancer researchers. While cancer is still one of the leading causes of death in the world, major strides have been made and there are more people surviving their cancer than ever before thanks to cancer research.
The Annual Block Party comes as the organization's largest fundraising event, and for its 44th run will once again be bringing together various vendors, restaurants individual donors and sponsors from the neighboring Los Angeles, Beverly Hills and various Southern California neighborhoods. The anticipated 4,000 supporters will be filling the streets of the iconic New York backlot at Paramount Pictures Studios and the Annual Block Party will be
Celebrating 50 Years of Super Heroes: Researchers, Donors and Volunteers
. The true super heroes in the quest to conquer cancer. The Block Party hopes to reach an additional milestone by exceeding their goal to raise $2 million to financially support research focused on immunology-based methods to treating cancer. This achievement would exceed last year's total of $1.7 million dollars raised and granted to cancer research.
In addition to hosting the various vendors, caterers, sponsors and guests, Concern Foundation chooses to honor members of the community that have provided a significant change towards the fight against cancer. This year, in connection to the theme, the foundation is happy to honor
Dr. Jay & Kris Calvert and family
as this year's
"Cancer Crusaders"
for their participation in helping to conquer cancer through research.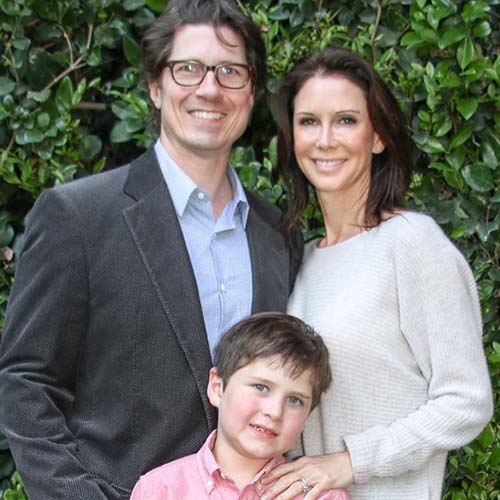 About Dr. Jay & Kris Calvert – 2018 Cancer Crusaders
Dr. Jay Calvert has been consecutively named one of Los Angeles Magazine's "Super Doctors" in 2014, 2015, and 2016. He has appeared on multiple hit television programs including CBS's "The Doctors" and OWN's "Dr. Phil". Alongside his wife Kris, Jay has openly shared their personal experience with cancer; having had prostate cancer affect the lives of both their fathers. Calvert's 10 year old son Ace was diagnosed with Acute Lymphoblastic Leukemia at age 4 and while today he has beaten his cancer, ALL (Acute Lymphoblastic Leukemia) can always return and he is never truly cured. This is a major reason he and his family feels so strongly about raising money to help find a permanent cure. Jay himself was a young scientist who could not get funding early in his career as a molecular biologist and he personally knows how important our mission to supporting young investigators is to jump start researcher's careers. Concern Foundation is proud to have these members of the community serve as this year's honorees. Their personal connection to the fight against cancer and philanthropic actions alongside the non-profit organization is sure to help make this year's Block Party a success.
"It's truly an honor for Concern Foundation to recognize the Calvert family as this year's Cancer Crusader honorees for their commitment to helping provide salary support for cancer researchers and for sharing their personal story." Stated Derek Alpert, Concern's President
About Concern Foundation
CONCERN is an appropriate acronym (
CON
quer can
CER N
ow) for one of Los Angeles's best-known and most beloved charities. Since its inception in 1968, CONCERN Foundation, which is dedicated to raising and granting funds to support cancer research worldwide, has broken local ground in many ways: pioneering support of cancer research (specifically in funding young scientists); using the force of celebrity to raise funds; encouraging restaurants and then caterers to share center stage with celebrities to raise money; and pioneering the "block party" fundraiser concept. This non-profit organization's fundraising milestones also chronicle a rich era in the entertainment-oriented social history of Los Angeles.
Concern Foundation's mission is to conquer cancer by providing essential funds to support the early yet critical stages of discovery. Concern has raised and awarded 60 million dollars to 750 gifted cancer scientists studying cancer, primarily in the areas of cancer genetics, cell biology, immunotherapy and immunology around the world.
For 50 years, Concern has pioneered the advancement of cancer immunology—the study of the relationship between the immune system and cancer—a field that is now widely acknowledged to hold the most potential for discovering treatments and preventions for cancer. With 90-95% of net proceeds going directly to research, Concern Foundation has made significant strides toward bridging a major gap in research funding by focusing its grants on young, innovative researchers with breakthrough ideas.
For more information about the 2018 Block Party or ticket/sponsorship details, please visit www.concernfoundation.org/block-party.
For more information or to purchase tickets please visit


www.concernfoundation.org/block-party



For map and location click

Here!