Beer Fest for Beer Geeks Presents:
The Rare Experience on November 18, 2017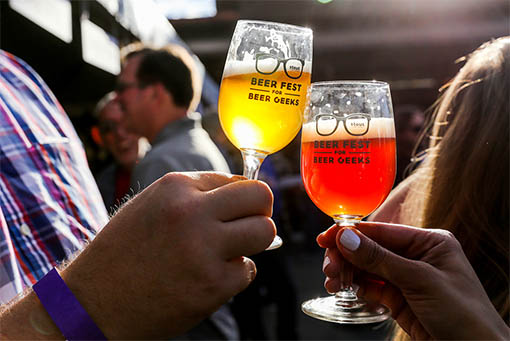 LOS ANGELES, CA — One of the city's favorite beer festivals is back this fall with its annual The Rare Experience, featuring about 20 celebrated breweries pouring rare, barrel-aged, funky, sour and often inaccessible beers. The Rare Experience takes place outside of the restaurant's Hollywood location from 1:00 pm – 6:00 pm on Saturday, November 18, 2017.
Beer fans will recognize a few of the more popular breweries attending the festival, including Allagash Brewing, Almanac Beer Company, Epic Brewing and High Water. Local breweries Boomtoon Brewery, Dry River Brewing and Craftsman Brewing will be on deck, while the popular Fremont Brewing and Third Window are making their debut. Styles range from barleywine to Belgian quads, sour ales, Imperial stouts - all barrel aged and range from low ABV to strong ales.
"Each year this beer fest gets better and better," says Joey Anderson, Stout's National Beer Manager. "Our goal is to bring the rare beers that both the everyday beer drinker and aficionado will enjoy, while exploring a diverse selection of styles."
General Admisssion tickets are $50 and includes unlimited tastings (rare bottle pour tickets available for purchase) with entry at 2:00pm. VIP tickets are $70 and get you access to rare bottles throughout the event, plus an early entry time of 1:00 pm. All guests will have access to free sliders, outdoor games, music, and more!
One of the perks new to this year's activities includes special presentations on home brewing and food pairings for VIP ticketholders.
Tickets can be purchased
http://bit.ly/RareExp2017
or at the door day-of.
# # #
Full taplist:
http://bit.ly/BF4BG-2017
List of breweries: Freemont Brewing, Concrete Jungle Brewing Project, Boomtown Brewery, Fifty Fifty Brewing, Epic Brewing Company, OEC (Ordinem Ecntrici Coctores), Saint Archer Brewing Company, Almanac Beer Co, Dry River Brewing, Craftsman Brewing, Upland Brewing Co, Avery Brewing Co, High Water Brewing, Allagash Brewing Company, Third Window Brewing, Global Beer Network, Anderson Valley Brewing Company.
Location: Stout Burgers & Beers Hollywood, 1544 N. Cahuenga Blvd., Hollywood, CA 90028
For map and location click

Here