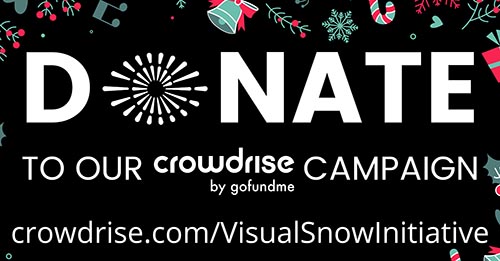 Celebrities Profile Crowdfund for Devastating Visual Snow Condition
Visual Snow Initiative Boosts Efforts to Amplify Awareness
Los Angeles, CA (November 30, 2018)
— The
Visual Snow Initiative
breaks new ground with celebrity-headlined crowdfunding campaign, after uniting global researchers for last May's first-ever Visual Snow Conference.
Sierra Domb founded the Visual Snow Initiative charity to attract attention to Visual Snow Syndrome, a, chronic, neurological condition that often strikes young people, like her, in their prime. This recently identified, devastating condition affects a person's vision, hearing and quality of life.
Visual Snow distorts a person's vision 24/7, with no relief – even when they close their eyes. People afflicted with it see the world through an overlay of tiny dots that move across their field of vision like a static TV, along with other disturbing images. They usually suffer other symptoms, as well, such as tinnitus, impaired night vision and headaches.
"Unfortunately, there is no known cause, treatment or cure for Visual Snow and few health care providers have heard of it. So most people suffering from it are misdiagnosed or marginalized by well-intentioned but uninformed physicians," explains Domb, Founder, Visual Snow Initiative. "We need to change this."
Bolstered by high-profile collaborators, the Visual Snow Initiative recently launched a CrowdRise campaign to amplify awareness and establish a Visual Snow Global Research Fund with the funds raised. Many celebrities are lending their profile to promote the international campaign, which raised more than $53,500 since its October launch. It runs until December 30 and 100 percent of funds will go directly to Visual Snow research. Plus, two anonymous donors have committed to match each donated dollar up to $25,000.
Following its January 2018 inception, the Visual Snow Initiative teamed up with
Brandefy, Conscience Group
and
The Artists Project
garner support from actors, recording artists and pro athletes in its public service announcements. Supportive celebrities include:
Ringo Starr, Aaron Carter, Anna-Lynne McCord, Tommy Davidson, Caitlin O'Connor, Brittany Curran, John Salley, Esai Morales
and
Elliott Yamin
. As the official charity partner at the
45th Daytime Emmy Awards
, the Visual Snow Initiative attracted support backstage and on the red carpet from more than 80 Hollywood celebrities, including: Judge Mathis,
Larry King, Dr. Oz, Wayne Brady
, Greg Vaughan,
Nancy O'Dell
, Lori Harvey, Vincent De Paul, James Reynolds, Aisha Taylor,
Sara Gilbert, Eve
, Julie Chen, plus
The Real
and
Days of our Lives'
casts.
Please visit
www.crowdrise.com/visualsnowinitiative
to donate or learn more.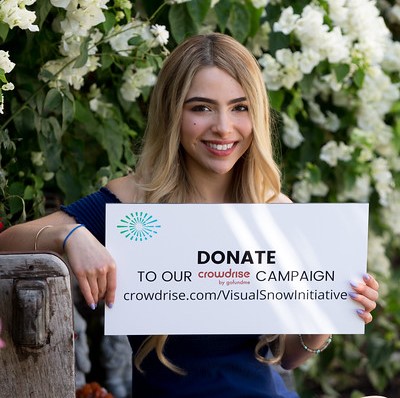 About the Visual Snow Initiative
The
Visual Snow Initiative
was established in January 2018 to increase awareness of Visual Snow, build a community for those who suffer from it and generate the research capital needed to advance toward a cure. It is a public charity under the fiscal sponsorship of the Edward Charles Foundation and all donations are tax deductible to the extent allowed by law. For
Visual Snow Initiative
updates, visit
www.visualsnowinitiative.org
and follow
@VisualSnowInitiative
on Instagram and Facebook and
@VisualSnowInit
on Twitter.