WE RISE 2019 — MAY 18-27
ANNOUNCED BY LA COUNTY DEPARTMENT
OF MENTAL HEALTH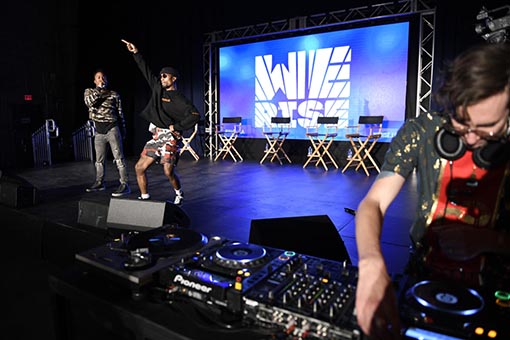 WHAT:
WE RISE——will take place in the Downtown LA Arts District Saturday, May 18 through Monday, May 27. This transformative, ten-day event will bring the community together for brave conversations around civil rights and mental wellbeing through engaging speakers, creative expression and interactive workshops.
WE RISE is an immersive cultural experience featuring a professionally curated art gallery, live performances, interactive programming and youth engagement to explore issues related to mental health and wellbeing. WE RISE aims to normalize conversations about mental health, and activate participants to understand that we are all healthier when we feel hope, connection and a sense of purpose.
WE RISE is free and open to the public each evening and weekends starting Saturday, May 18 through Memorial Day weekend. School day mornings will be reserved for student field trips with specialized curriculum and special guests. Past participants at WE RISE have included musician Kehlani, rapper Common with singer-songwriter Andra Day, athlete Kobe Bryant, rapper Ty Dolla $ign, artist Skid Robot and actress Yara Shahidi. A look at last year's events is available at
WERise.la
.
The event is sponsored by the Los Angeles County Department of Mental Health through funding from the California Mental Health Services Act. For more information about the campaign, go to
www.WhyWeRise.LA
.
WHEN:
Sat. May 18 – Mon. May 27, 2019
Evenings: 5 -10 p.m.
Weekends: 10 a.m. – 10:00 p.m.
WHERE:
Downtown Los Angeles Arts District